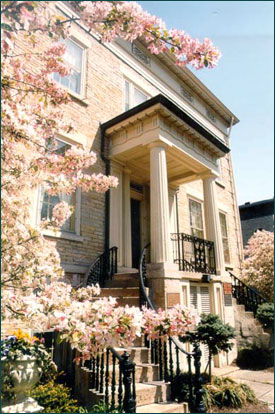 The Follett House Museum is home to an outstanding local history collection, documenting the history of the city of Sandusky and Erie County. The mission of this branch of the Library is to collect, preserve, and share with citizens, scholars, and researchers the special collection of artifacts for the interpretation of the history of the city of Sandusky and Erie County from its earliest times to the present.
MUSEUM HOURS:
Saturday…………………….1:00 p.m.-4:00 p.m.
To schedule a group tour , contact Jeremy Angstadt, museum services manager.
Call 419-625-3834, email jangstadt@sanduskylib.org, or use our website's Contact Us form.
Admission is free.
The house, built in the Greek Revival Style, features a widow's walk, where visitors may enjoy a panoramic view of Sandusky with Cedar Point and Johnson's Island in the distance.From its humble beginnings in 1902 in the Sandusky Library's Local History Room to its present location in the former home of Oran Follett, the Museum has grown into a fine collection thanks to generous donors who seek to preserve local history.
Sandusky has been a witness to history from the Battle of Lake Erie and the Civil War era Johnson's Island Prison to visits from Presidential hopefuls and stars of the stage and of the written word. Located on Sandusky Bay, many industries impacted and shaped local life, including fishing, ice harvesting, stone cutting, shipping and tourism. Immigrants from Germany, Italy,Ireland and other distant lands brought new traditions to Sandusky, some of which survive to this day.
Each of the Museum's four floors contain exhibits that tell the story of Sandusky. Learn about domestic life, leisure time activity, business and industry, and tourism. View the Museum's outstanding collection of historic textiles. Learn more about the roles played by local citizens in time of conflict, from the War of 1812 to World War II. A visit to the Follett House isn't complete without a trip to the rooftop Widow's Walk, where a clear day affords a fantastic view of downtown and Sandusky Bay. Located one block from the Museum, the Sandusky Library Archives documents local history using photographs, maps, documents, directories, manuscripts and more.
The Follett House Museum was placed on the National Register of Historic Landmarks on December 31, 1974. The property is listed under Criterion C for its distinctive characteristics of a type, period, or method of construction, because it represents the work of a master, possesses high artistic values, or because it represents a significant and distinguishable entity whose components may lack individual distinction (e.g. a historic district). It is also listed under Criterion B for its association with the life of a person or people important in our past at the local, state, or national level.